The work
Working Holiday Visa holders who apply through Agri Labour Australia have the opportunity to secure work in a broad range of roles across the agriculture industry. We've worked hard over the years to partner with the most reputable businesses in our industry and secure roles in everything from horticulture and produce handling to supervisory positions for travelling job seekers.  We offer award rates of pay and excellent earning opportunities, with weekly wages ranging between AUD$900 and $2,300. We know that clarity is paramount, so we strive to provide an accurate picture of each job before work begins through site and task videos, previous employee testimonials, and details about pay, hours, rosters and conditions.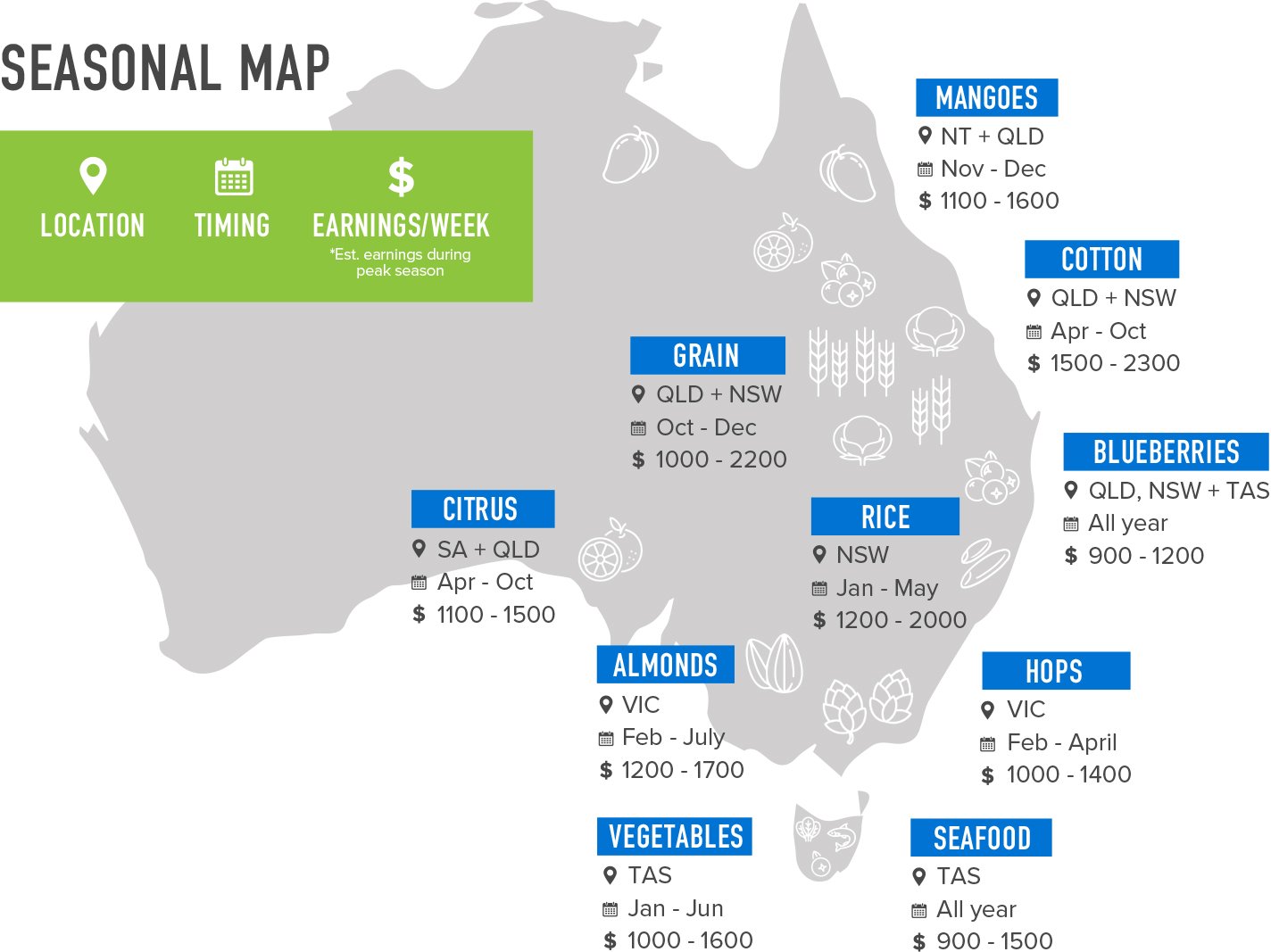 Our community
It's our legendary community of current and past workers that makes Agri Labour Australia the outstanding company it is today. When you join our Agri family, you'll have the chance to socialise with a ready-made group of friends while you enjoy the sun, sea, and sand. We strive to create awesome candidate communities and always prioritise our previous hard-working candidates for future opportunities, so if you work well for us, you will never need to worry about finding the next job! Many of our previous and current candidates have even organised their own harvest trail with us and returned to the same seasonal project each year.
Check out this video to see our community in action.
Don't just take our word for it – hear what our candidates have to say about Agri Labour Australia.
Who's eligible?
Borders are expected to open up to WHV makers in the first quarter of 2022. Although the details have not yet been released on eligibility requirements, we expect that applicants will be required to:
Secure a Working Holiday Visa 

Be between the ages of 18 and 31, depending on your nationality

Have received a full course of an approved COVID-19 vaccination – Pfizer, Moderna, AstraZeneca, or Johnson & Johnson

What can you expect from working with ALA?
At Agri Labour Australia, we're proud of the community we've built right across the Australian agriculture industry and the standard of care we offer all of our workers. Our commitment to our candidates' safety is at the heart of everything we do. We care deeply about the safety of our workers, and our recruitment consultants are on-hand to deliver expert advice and post-placement support whenever a candidate needs it.
About the team
Our team of recruitment professionals is diverse! We are culturally sensitive to the needs of candidates with different demographic backgrounds and able to assist candidates in five different languages. 
Before placing workers, our account managers conduct safety inspections onsite to ensure a workplace is safe and compliant. We also make regular enquiries about workers' welfare, offer constant on- and off-site support, and where possible, place ALA supervisors on the ground to ensure our workers are happy, healthy and productive.
About our approach
​We are acutely aware that timely, accurate payment is of paramount importance to our workers, and we aim to have all payroll queries answered and resolved within 72 hours. We also work with our clients to ensure their roles and conditions are attractive enough to retain awesome candidates and that rates of pay are legal and fair. 
We also have the systems and connections to ensure that our candidates have the opportunity to return for future projects so you can learn and earn for longer.
Register your interest
Are you interested in undertaking seasonal work that allows you to travel and earn great money? Simply register your interest and we will be in touch with more information about our opportunities for workers in agriculture.