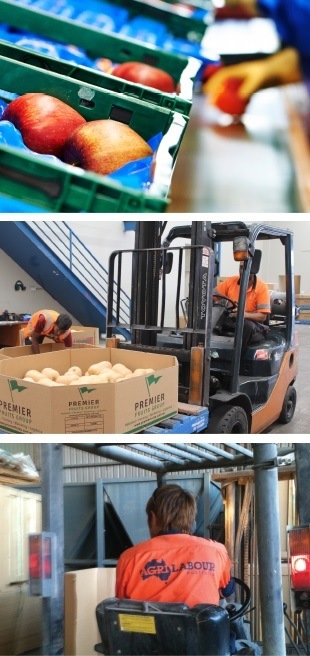 Need Food Processing Staff? Trust an Australian leader in food processing and packing personnel
Agri Labour Australia is a leading national supplier of on-hired skilled and semi-skilled staff to the food processing labour hire and packaging industry.
We are the supplier of choice for a number of national brands, plus many smaller operations, providing highly screened, motivated and productive staff across the entire supply chain.
Our casual, seasonal and permanent labour is ideal for all aspects of FMCG workers and food production, including processing, packing, distribution, logistics and transport.
Personnel include:
Skilled
Quality Assurance
Forklift operators
CHEP reconciliation
Inventory control
Supply chain / logistics coordinator
FMCG supervisors
Transport (HR, HC, MC)
HACCP certified staff
Semi-Skilled
QA assistants
Freshcare compliance
RF scanners
Pick/packers
Fresh produce graders
Why Agri Labour Australia?
As specialists in FMCG labour and agricultural labour supply, Agri Labour is well qualified and excellently systemised to provide the right staff at short notice. We are proud to offer our partners the following benefits:
Fast turnaround and quality staff
With 24/7 account management, cutting-edge screening and unique recruitment strategies, we can provide 24-hour hiring turnaround and an impressive 83% retention rate over the last 5 years.
Change management and Enterprise Bargaining Agreements
We have experience in transitioning entire workforces off Federal Awards and onto Workplace Enterprise Agreements, and can give you access to our own flat-rate EBA.
Risk reduction
We ensure you are compliant with Fair Work, Work Cover and Immigration requirements, with all international staff pre-verified for their right to work.
Logistics organisation
We handle all personnel logistics as necessary, including transport to your site, remote accommodation, and even tailored online induction training.
Competitive, realistic rates
Agri Labour Australia is dedicated to maintaining long, sustainable and mutually beneficial relationships with clients. Our margins are fair and negotiations are transparent.