To be eligible for a working holiday visa you must
be double vaccinated
with a COVID-19 vaccine that Australia recognises
Do you want to experience
life overseas while you save
for a brighter future?
Can you see yourself living and working
in Australia?
Australia is home to a wide range of harvest opportunities for
working holiday makers – and if you're eligible for a working holiday
visa and want to experience another culture while earning great
money, the Australian agriculture industry is the place to be.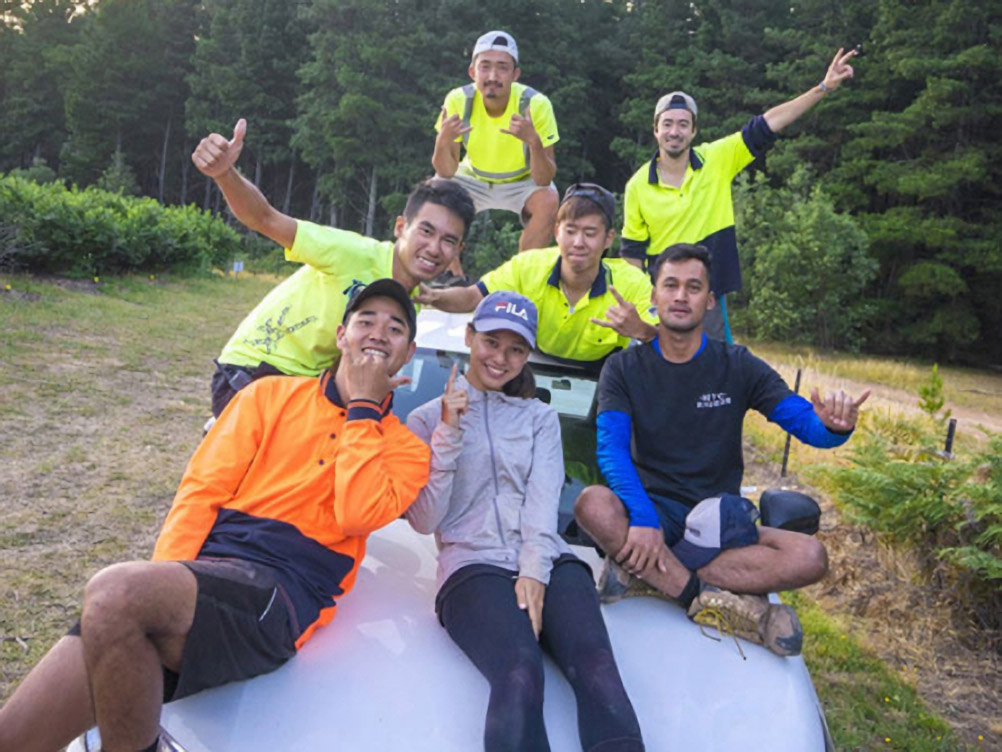 働き、旅して、貯金もできる
With borders finally open post-COVID, Australia is ready
to welcome international workers who want to secure
regular hours and earn a great income in the agricultural
industry. Right now, Agri Labour Australia is recruiting for
the Citrus Harvest – an opportunity to spend four to six
months in South Australia grading and packing fruit, getting
paid at or above award rates and creating connections that
could lead to long-term work.
The Citrus Harvest ends in October, but your Australian
work experience doesn't have to, with plenty of positions on
offer across the blueberry, almond and hops harvests. As a
member of the Agri Labour Australia family, you'll have
access to an ongoing stream of seasonal work throughout
the year – so you can make your working holiday last.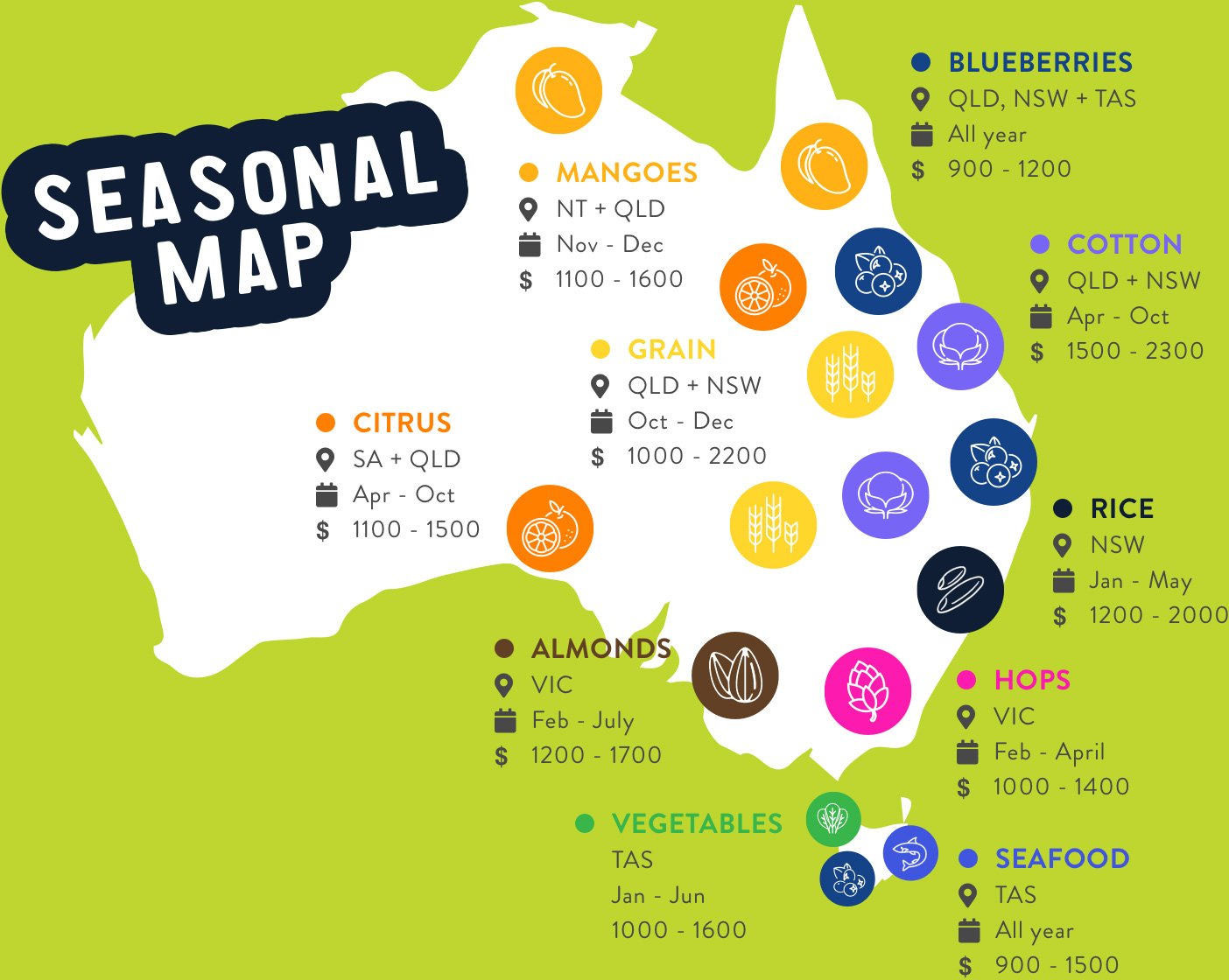 location

timing

earnings/week*
*Est. earnings during peak season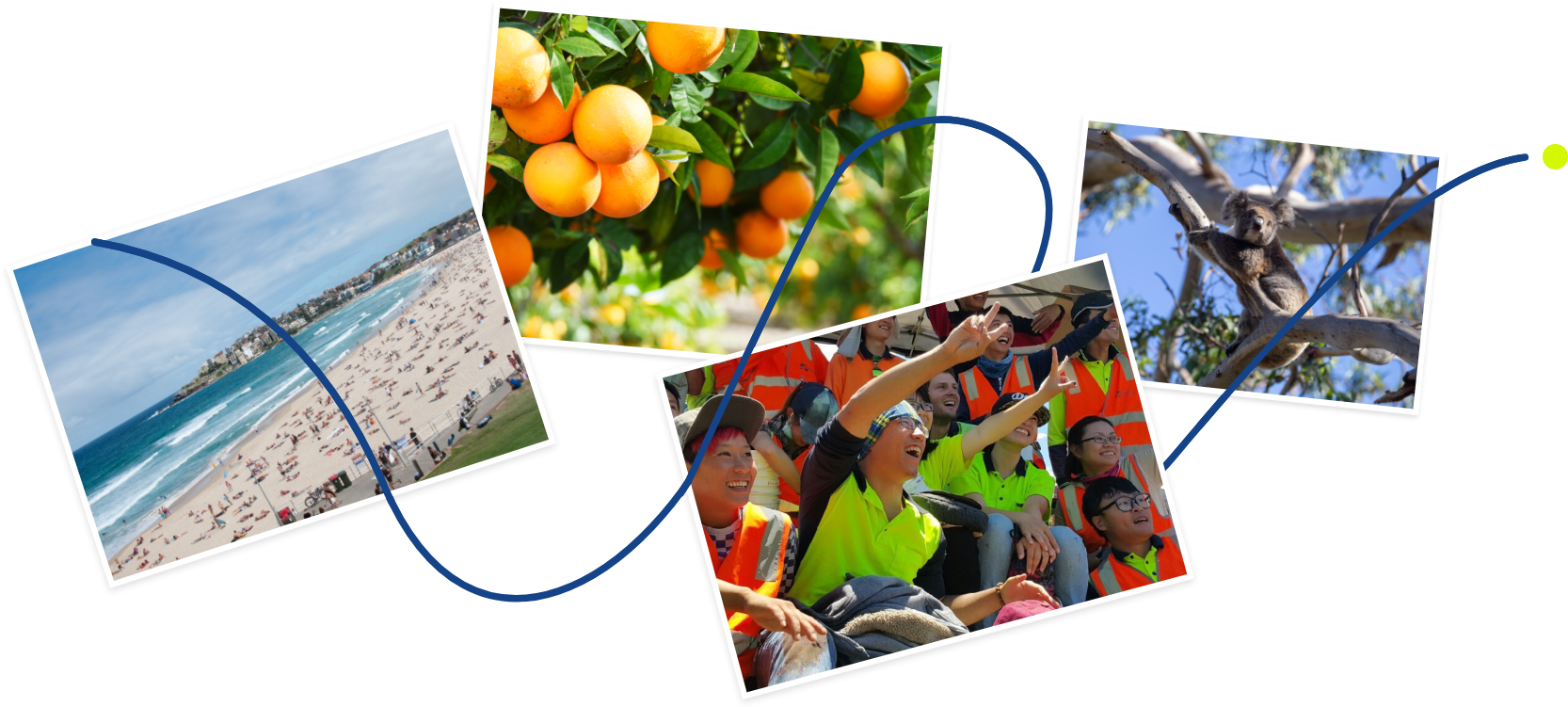 始める準備はで
きましたか?
The online application will only take 5 minutes or so.
Have your ID and resume ready to upload.
are you ready to work hard, earn australian dollars, and
experience life in a new country?
南オーストラリア州リバーランド地域では 来たる(これから来る)シトラスのハーベストシーズン
(シトラスの収穫時期) を迎え、様々な素晴らしい仕事のオファーが4〜6ヶ月程度用意されています。
今までの環境を変え、一貫性のある(理にかなった)週に1100ドルから1500ドルくらいの給料が見込め、
あなた自身の将来のための土台とすることもできるでしょう。申請出きるポジションは次のとおりです:
grading quality of fruit.

packing fruit into bins, boxes, cartons or trays.

ensuring that all fruit is processed in a safe, hygienic manner.
overseeing grading and packing operations.

ensuring consistent produce quality.

operating forklifts and transporting produce.

* Note: all applicants for this role are required to have obtained a forklift licence.
Who is Agri Labour Australia?
Don't just take our word for it – hear from candidates who have travelled from overseas to work, live and earn in Australia.
Matt & Zoey
Travel & Work Together
Edgar
Tree Planting Jobs in Tasmania
Victor
Australian Mango Farm Career
わたし達は幸せな候補者達のコミュニ
ティを作り上げています。
Founded in 2010, Agri Labour Australia is an industry-leading agricultural recruitment specialist, successfully placing thousands of candidates across Australia each year. Since starting our business, we've focussed on building a strong sense of community and providing ongoing, on-the-ground support for all of our candidates.
We pride ourselves on our commitment to compliance, offering award rates or above, and ensuring that each of our candidates feel like a valued part of #myagrifamily. If you're ready to make memories that will last a lifetime, you're in the right place.
FAQ
s
Everything you need to know about working with Agri Labour Australia.
Who is eligible for the opportunity?

Can I choose the job I want to do?

What happens if COVID-19 affects travel?

How much can I expect to earn?

Where are the roles located?

What kind of work is on offer?

Do I need a visa?

Can I work and live with my friends?

Who can I talk to with questions whilst I am there?

What if I want to continue working after my placement is over?
Do I need to be fully vaccinated against COVID-19 to be able to take part?

シトラスシーズンであなたの就職を申請する準備、または別の
シーズンでの就職を申請する準備はできていますか?
あなたの登録は、詳細を記入するだけなので簡単です。
下のボタンをクリックして、申し込みフォームに記入してください。完了までに5分以
上かかることはないので、是非今すぐ登録して下さい!