The roles
We're always looking for talented, hardworking individuals to join our team and help us continue to provide the best possible service to our clients. If you're interested in working in the meat processing industry, we encourage you to get in touch with us today to learn more about the opportunities available.
Some of the jobs that do not require experience include:
Packing
Labouring
Cleaning
Some of the jobs that do require experience include:
Knife hands
Trimmers
Butchery hands
Boners/Slicers
Slaughtermen
Meat processing involves working 8-12 hours per day,  Monday – Friday (occasional weekend work), with a pay rate of $28.26 – $36.05  per hour plus bonus structures in place for successful candidates.
Maximise your earning potential with Agri Labour Australia with a new role in Aussie Agriculture.
Dependent on your experience, location, and personal initiative YOU could earn between $28k – $30k** for 6 months work!
Who we need
Successful applicants for this work will need to be physically capable of performing long hours in return for excellent pay.
If you meet the following criteria, we'd love to hear from you:
Have a flexible attitude to your work
QFever Vaccination or willingness to receive the vaccine
Able to pass pre-employment medical, including drug and alcohol
Previous experience in a similar role (highly regarded but not essential)
Proven knife and sharpening skills
Australian Citizen/Permanent Resident or have full rights to work in Australia
Able to work in a hot/cold environment
Own transport
Cert III in Meat Processing (not essential but highly regarded)
All candidates should be aware of the reality of the conditions in the meat processing industry. For example, most work is done indoors in a controlled temperature environment. While conditions are improving, there are still carcasses on display, which means blood and organs are in plain sight. Facilities generally have large processing lines with a high volume of staff working shoulder to shoulder. It's a multicultural environment with everyone working at a fast pace. Automation and mobile machinery are prevalent. Our client also provides all PPE for staff.
Why it's great to work with us
At Agri Labour Australia, we aim to make the employment process seamless for both job seekers and employers. We pride ourselves on being more than just a recruitment agency, and our consultants are on-hand to deliver expertise, advice and support whenever you need it. Here's what you can expect when you join Agri Labour Australia for a position within meat processing:
Above-award rates with applicable overtime and penalty rates. Bonus structures and higher rates are available for experienced roles.

Connections that lead to more work. Our team provides opportunities to grow your skills and experience with training opportunities or other agricultural work

Ongoing support. Your recruiter will be on hand to answer questions and discuss any issues you may have throughout your placement.
You will have the opportunity to watch videos of your work environment for an insight into your day-to-day tasks.
Safety
Agri Labour Australia is fully committed to ensuring the safety of all our staff. All successful applicants are required to participate in inductions, training and pre-employment education and attain the necessary safety knowledge and appropriate skills prior to starting work. Pre-employment drug and alcohol testing will be carried out prior to beginning work and randomly throughout your employment.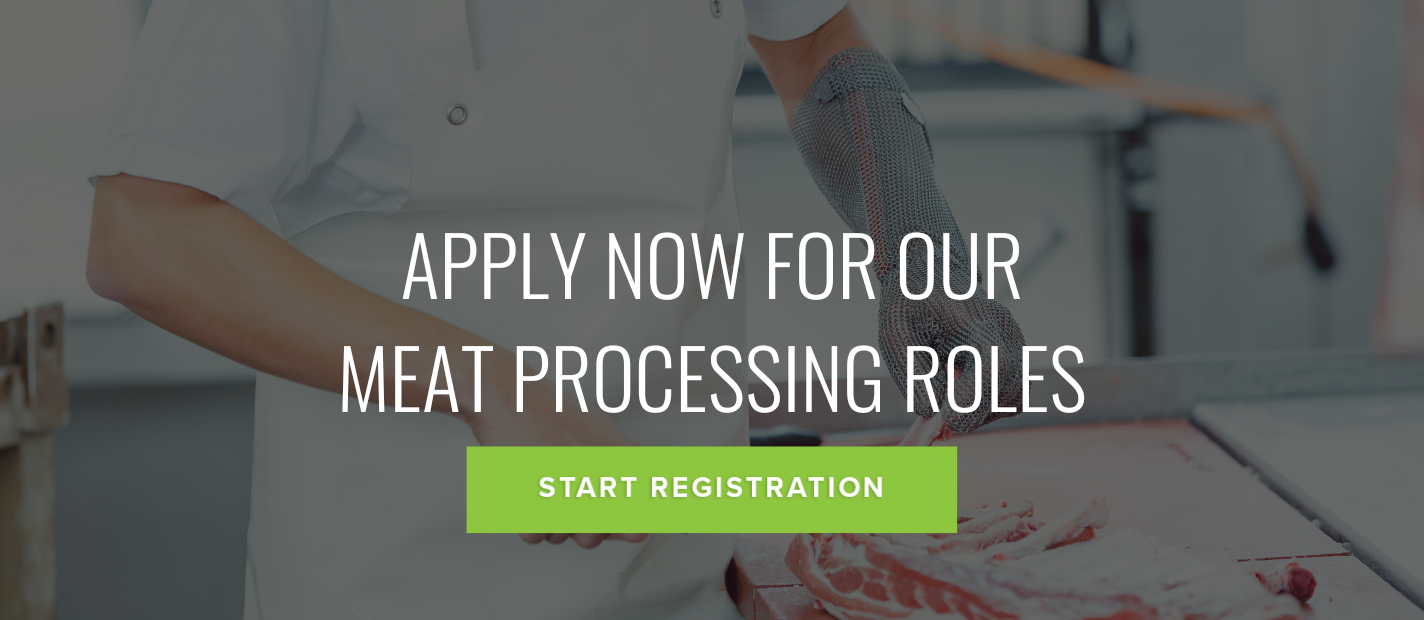 * For specific T&Cs surrounding the bonus incentive please speak with your recruitment professional.
**Figure is based on a standard 38-hour work week over 6 months (26 weeks). Indicative earnings reflect the standard earning pre-tax and will vary dependent on your personal and unique circumstances including the position available, your experience and work history and your preferred location.