What is the grain harvest?
The grain harvest is an important event on the Australian agricultural calendar, with positions located in Victoria, New South Wales, Queensland, South Australia and Western Australia. Intense and hard work, it's also a highly lucrative harvest that offers great opportunities to work and travel in iconic locations, whilst gaining invaluable experience in a variety of crops including wheat, sorghum, canola, barley and chickpeas.
Locations and start-times vary for the grain harvest, with some regions commencing in September and others following in later months.
Who we need
This hot and dusty work is not for the faint-hearted – responsible for building and maintaining grain bunkers, directing traffic and operating machinery including hoppers and stackers, applicants must be hardworking, physically fit and not suffer from asthma or dust allergies.
Dedicated to a culture of safety for yourself and your colleagues, you'll follow strict procedures and be ready to work long hours when required. If you meet the following criteria, we'd love to hear from you:
physically fit and able to work extended hours and flexible shifts

able to pass all drug and alcohol tests

high level of English communication skills

thrive under pressure

strong work ethic

keen to help the Aussie agriculture industry

previous experience in wheat and grain harvests is highly regarded, but not essential

heavy rigid truck licence (or higher) and front-end loader licences are highly favourable

Confined Space Certificate is a plus.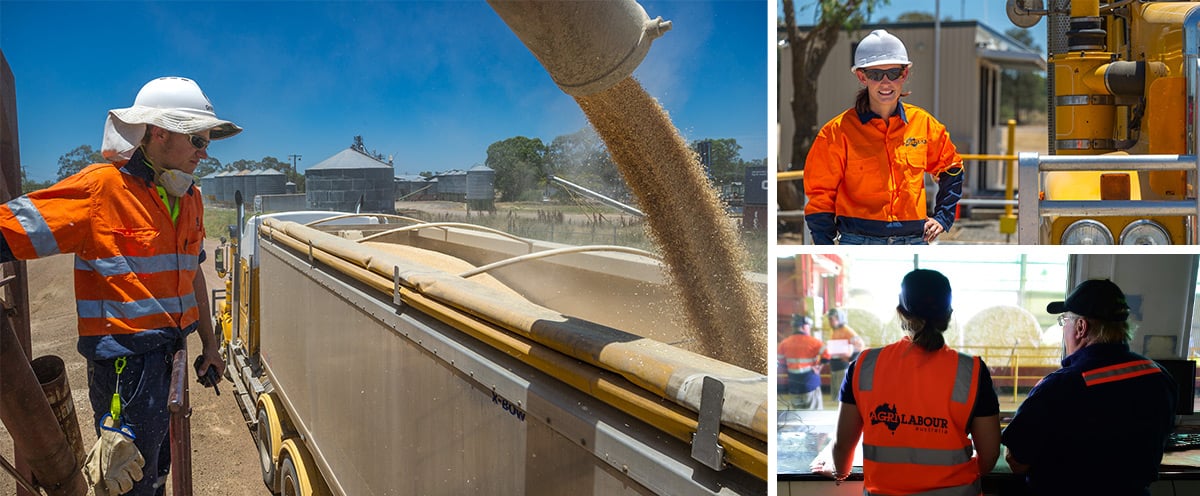 Why it's great to work with us
At Agri Labour Australia, we aim to make the employment process seamless for both jobseekers and employers. We pride ourselves on being more than just a recruitment agency, and our warm and friendly consultants are always on-hand to deliver expertise, advice and support whenever you need it. Here's what else you can expect when you join Agri Labour Australia:
A generous hourly rate starting at between $29.10 – $33.50/hour (depending on company and location), PLUS applicable overtime and penalty rates. Higher hourly rates are offered to returning and highly skilled workers.

Connections with more work, as our team provides opportunities to travel with the harvest from central Queensland to southern Victoria.

The chance to watch videos of your work environment, so you can get an insight into your day-to-day tasks.

Ongoing support – you can talk to your recruiter regarding any issues or questions you may have at any time throughout your placement.
Safety
Agri Labour Australia is totally committed to ensuring the safety of all our staff, and all successful applicants are required to participate in inductions, training and pre-employment education so they're equipped with the necessary safety knowledge and appropriate skills prior to starting work. Pre-employment drug and alcohol testing will be carried out prior to harvest and randomly throughout the season.