It's all over bar the shouting, and 2015 will go down in history as a big year for landmark FTAs – one signalling unprecedented access to the biggest consumer market on Earth.
We wouldn't go so far to say it's been a victory across the board for Australian agriculture, but June's Australia-China Free Trade Agreement (ChaFTA for short) and October's Trans-Pacific Partnership (TPP) are set to usher in a new era of prosperity and growth in many key sectors. It looks likely that agriculture's great white hope, sugar, will stay where it is for now, but who knows what the future will hold?
China-Australia Free Trade Agreement
After 10 years and much negotiation, ancient trade barriers finally buckled when then-PM Tony Abbott and China's commerce minister Gao Hucheng signed on the dotted line in Canberra.
Demand for food in middle-class China is off the charts and Australia has the means to feed them. The only thing in the way were tariffs. Big ones. ChAFTA goes a long way to opening up the market for agriculture and processed foods, with equal or better access to China than any other FTA partner. Tariffs on some exports will be reduced by up to 30%. Let's take a look at what's going down and by how much:
And the winners are:
Beef: tariffs of 12-25 per cent will be wiped out within 9 years of entry into force.
Dairy: all tariffs (currently up to 20 per cent) will be eliminated within 4-11 years. *Translation: we predict big things for infant formula (Aussie brands are in hot demand in China) and ice cream in particular.
Horticulture: tariffs of up to 30% on fruit, vegetables and nuts will be eliminated, most within 4 years. *Translation: macadamias, almonds, walnuts and pistachios will shed their 10-25% tariff. The 11-30% tariff on oranges, mandarins, lemons and all other citrus fruits will also be peeled off.
Sheep and goat meat: tariffs of 12-23 per cent will be gone within 8 years.
Pork: all tariffs (up to 20 per cent) will be scratched within 4 years.
Hides and skins: tariffs of 5-14 per cent will be eliminated within 2-7 years.
Wine and spirits: in four years, tariffs of 14-20 per cent on wine and up to 65 per cent on alcoholic beverages and spirits will be a thing of the past. *Translation: wine imports are booming in China, which could well be a boon for our esteemed Aussie winemakers.
Seafood: tariffs on all seafood exports will be eliminated within 4 years. Including tariffs of up to 15% on fresh abalone and rock lobster within 4 years.
Honourable mentions: barley and sorghum, a range of processed foods and wool also secured victories.
Better luck next time:
Hopes were high, but no inroads were made for sugar or rice growers. The chairman of Canegrowers Queensland told news.com.au: "It's disappointing given that it's a huge market. We only wanted to fill in the gap between their domestic production and consumption, but we didn't gain much traction except a framework for further reviews."
Trans-Pacific Partnership (TPP)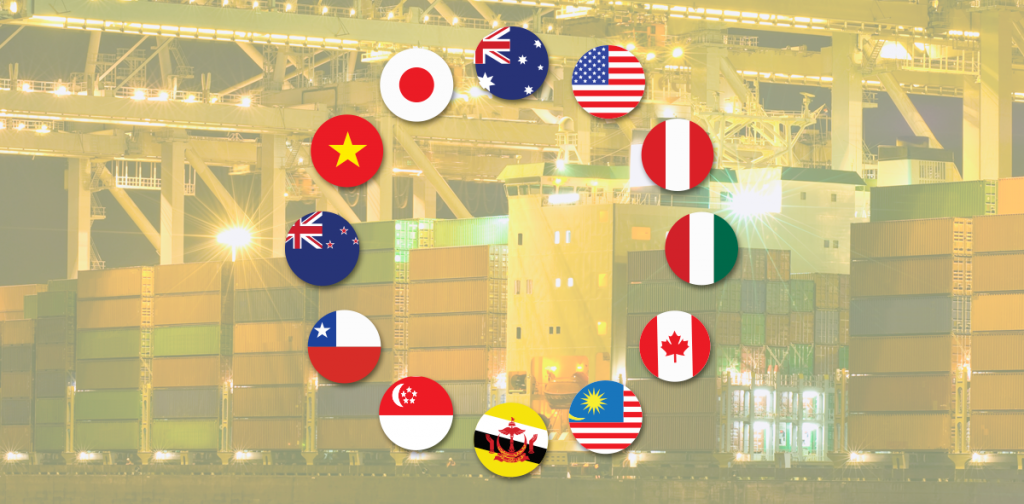 Eight years of debate was finally put to bed last month when 12 Pacific Rim nations signed the biggest free-trade agreement in history, covering 40% of the global economy. We now have agreements in place with countries where previously there were none – Peru, Mexico and Canada. What does this mean for agriculture? Thousands of tariffs will be removed. Not quite as many as hoped, but nothing to be sniffed at.
And the winners are:
Dairy: The TPP clinched victories for Aussie cheese – the deal spells the end of tariffs on some products and paves the way for tariff reductions and new quota allocations for others.
Grains: The TPP will create new quota volumes for wheat and barley exports to Japan (worth approximately $481 million in 2014). Tariffs on exports of Australian wheat and barley will be no more, and the TPP also means new quota access for roasted malt exports.
Rice: It was a no-go zone in ChaFTA, but the TPP will see a new 6000-tonne quota access to Japan, plus reduced tariffs on rice preparation products, plus an amendment to the WTO quota of an extra 60,000 tonnes of medium grain rice for processing use.
Wool and cotton: All remaining tariffs on Australian raw wool and cotton exports to TPP countries will be removed. The TPP will also deliver improved rules of origin for textiles, potentially upping demand for Australian fibre products.
Better luck next time:
Dairy: They say it's best to shoot for the Moon, but some were disappointed in the dairy deal – saying it failed to live up to its full potential of total tariff elimination.
Did you know?
Australia currently has 9 FTAs up and running and 7 more under discussion
*NB: ChaFTA's status is 'signed' and TPP's is 'negotiations concluded'.