Why recruit through the Pacific Labour Scheme?
An initiative of the Australian Government through the Department of Foreign Affairs and Trade (DFAT) as part of the Pacific Mobility Programme, the Pacific Labour Scheme lets employers supplement their existing people-streams, with an enthusiastic Pacific labour workforce through a seasonal worker programme. Employers who take on workers from Pacific Island countries using the Pacific labour mobility scheme can also enjoy a host of other benefits.
A stable, long-term and productive workforce who become involved in the local community.

Access to low- and semi-skilled Pacific labour workers.




No need to continuously retrain new staff.

Pacific labour workers can stay in the country for three consecutive years before leaving for a year, then returning.
Participating nations in the Pacific Labour Mobility Programme
Agri Labour Australia is a pre-approved, fully compliant sponsor of the Pacific Labour Scheme, and is connected with local Pacific labour mobility sourcing partners and recruitment agencies in PLS approved regions, including Pacific Island countries such as Fiji, Kiribati, Nauru, Papua New Guinea, Samoa, Solomon Islands, Timor-Leste, Tonga, Tuvalu and Vanuatu.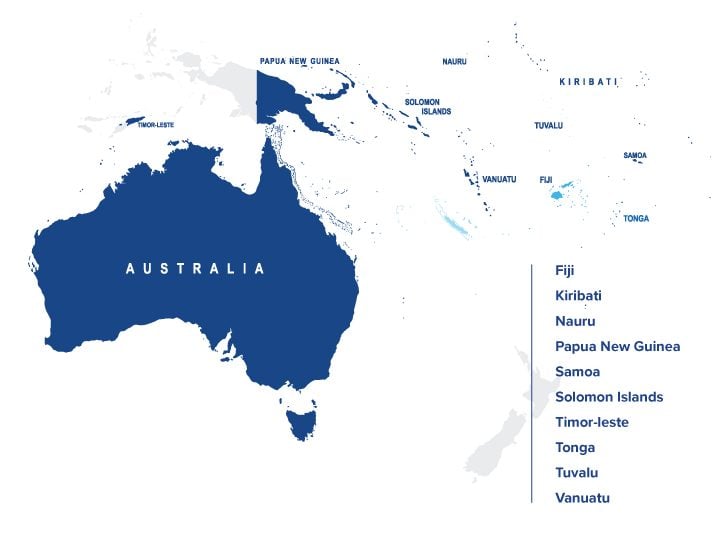 About Pacific Labour Mobility Programme Workers
Workers that come to Australia through the Pacific Labour Scheme are: 
21-45 years old Pacific Islanders
low and semi-skilled (ANZSCO levels 3-5)
in Australia on a Temporary Work (International Relations) Visa (subclass 403)
able to work in Australia for 1-3 years before completing a mandatory 12-month offshore period, then returning for another 1-3 years, and so on
able to work in any areas except the following:
NSW: Sydney, Newcastle and Wollongong
QLD: Greater Brisbane and the Gold Coast
VIC: Melbourne metropolitan area
WA: Perth metropolitan area
PLS compliance 
Our dedicated PLS team is aware of the regulations and legalities associated with recruiting Pacific Island workers, and established processes ensure these are strictly adhered to. Our clients' staffing needs and job-specific requirements determine the country and local agent selection, and all our local contacts across the Pacific Island Countries have previous experience sourcing reliable workers for the Australian agriculture and horticulture industries.
Get in Touch
If you want to take advantage of the Pacific Labour Mobility Programme set up by the Australian Government to bring low and semi skilled Pacific labour force your rural and regional farm, then get in touch with Agri Labour today. Fill in the form below or give us a call to find out more information about the Pacific Island seasonal worker scheme and how it can help your agriculture business.