Agri Labour Australia has partnered with GrainCorp to oversee casual employment opportunities throughout their Eastern Australian Sites. Applications are now open for over 500 roles in Queensland, New South Wales and Victoria for the 2017 Wheat harvest which starts in September through to early December. A number of the sites are in remote locations.
Benefits of working with us include:
Generous salary: $24.41/hour with applicable overtime and penalty rates. These are short term roles, with long hours so you can earn a lot of money in a limited amount of time.
We also offer long-term and flexible work, and have clients all around the country so we are a one-stop shop for all your future employment needs.
Our work can take you to every corner of Australia. Travel down with the harvest moving from Central Queensland down to southern Victoria.
We help you save money and make your travels easier by connecting you with your team mates prior to your employment which takes the stress out of organizing transport and accommodation.
We can show you videos of your work environment, so you can get a realistic insight into your day-to-day tasks.
Australia is a multicultural country, so we employ local, transient and international applicants. Our team of recruiters consists of many different cultures so often you can speak to your recruiter in your own language, and we understand everyone's different needs.
We support you – if you have any issues while working we are the only company that has leading hands on-site for you to talk to and you can also talk to your recruiter.
You will be responsible for building and maintaining grain bunkers, directing traffic and operating machinery such as hoppers and stackers. You are a hardworking, physically fit self-starter who enjoys the outdoors and is used to working long hours when required. Reliability is key and will be rewarded with future work, if desired. Being safety-conscious is crucial as you'll need to follow strict safety procedures and as the work is extremely dusty this role is not suitable for anyone with asthma or dust allergies. Be aware, this industry is impacted by weather events that lead to changing start dates and site requirements.
As an employer we pride ourselves on our positive corporate culture and encourage applications from a diverse range of candidates. Regardless of circumstances, this is a fantastic opportunity for those who are looking to make a lot of money in a limited amount of time.
To be successful in this role, you will need:
Good physical fitness and past labouring experience an advantage.
Strong work ethic and a track record of working successfully in a team environment.
Good communication skills and be fluent in English.
Ability to work under pressure.
Certificate in confined space training and front end loader licences will be viewed favourably.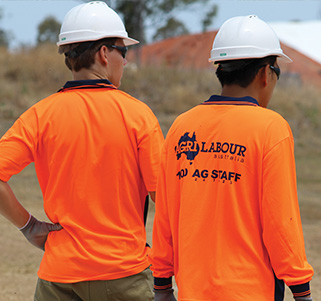 Safety
Agri Labour Australia is committed to ensuring the safety of all of our staff. All successful applicants will be required to participate in inductions, training and pre-employment education so that they are equipped with necessary safety knowledge and an appropriate level of safety skill prior to starting work.

Pre-employment drug and alcohol testing will be carried out on all successful candidates prior to the harvest starting and randomly throughout the harvest.